The YAFI-TV player can be downloaded on any iOS (soon) or Android device. This is an optional way to install the player. IMPORTANT: we do not own or distribute the content access on the YAFI-TV player. Furthermore, there is no direct charge for access. It's considered a complimentary benefit for being a Lifestyle Member. However, it is highly recommended (sometimes required) that you add a private VPN for all of your mobile and wireless devices. Get details CLICK HERE.
We need to first approve a third-party app on Fire Stick. We enable "Unknown Source" feature. By enabling this feature, we can download and install the third-party-apps.
First, follow the below guide to enable Unknown Source, and then we will move toward the installation section:
1. Close all the apps and from Home Screen hovers to the above menu, and then click on Settings.

2. After this you need to move forward to see more options and from here select My FireTV.
3. At this time just scroll down and then open Developer Options.
Note: If you do not see Developer Options, go to Settings > My Fire TV > About.
Now, select Fire TV Stick and click it 7 times to enable Developer Options. If you're still not sure how to do it, here's a step-by-step guide to enable developer options.
4. Here you will see two more options and from there click on Apps from Unknown Source.
5. Right after clicking on that feature it will show a warning message just ignore it and click Turn on.
Now the installation of Unknown Source is enabled which means we can now sideload an app on FireTV Stick. So, without wasting any more time let's head to the installation guide below. Please make sure to read the steps twice before following.
In this guide, we will use an app called Downloader that is available on the App Store. This app is popular among those who used to sideload third-party apps. The user interface of this app is quite easy and remote-friendly as well.
Instead of just downloading apps or other stuff you can also use it as a web browser to access the various websites. It is not good enough but still, you can consider it while searching for any app that you cannot find or simply use any other best browsers from the list that I provided here: Best Web Browsers For Firestick 4K
Ok, so below are the steps on how to install the player on Firestick:
Launch Firestick and from Home Screen hover to the above menu and then click the Search or Magnifying Glass icon.
Now from here using the virtual keyboard type Downloader or else use Alexa Voice assistant by pressing the mic button on Remote.
Open the first result having an orange background (else check the screenshot attached below).
At this time you need to click on Download (You Own it) button.
Now just wait for a while until your apps start downloading and when it's done you will see Open. When that button appears just click on it to launch Downloader on your device.
When launching the Downloader for the first time you will be asked to allow permission to Access Media, Files, Photos, etc then click on the Allow button.
After this, you will see the box appears where it requires to type an address for the app to download. Hover to box and click select to launch keyboard and then type https://bit.ly/YAFI-TV and then click Go.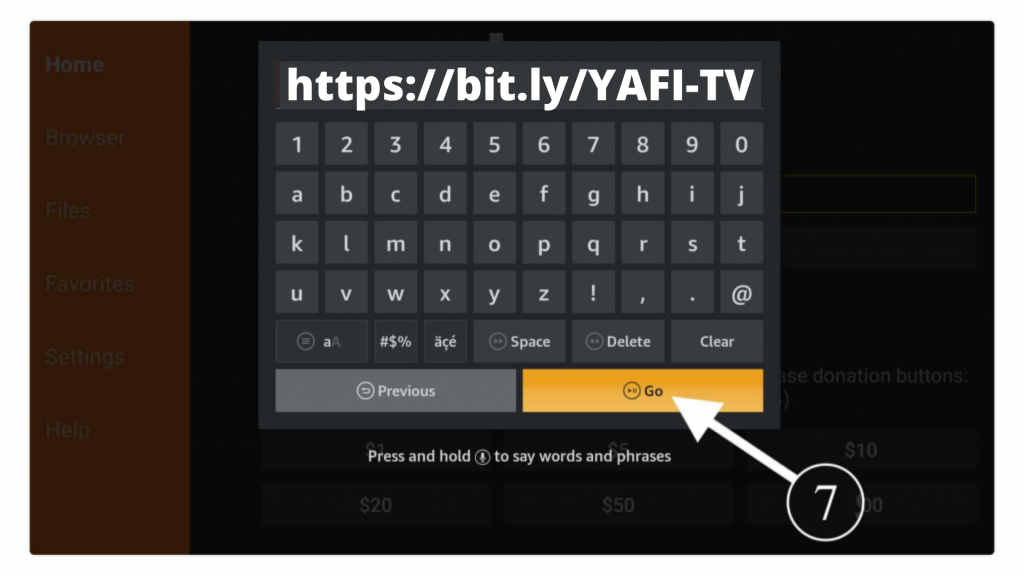 After clicking on the Go button the app will start connecting to the server and right after this, your YAFI-TV player download will begin.
Depending on your internet speed the app will take time to download and when it completed you will see the installation windows appears there. When that window appears now click on the Install button located near Cancel.
Now wait for some time until it installed and when it's completed just click on the Done button as we are not going to launch it now.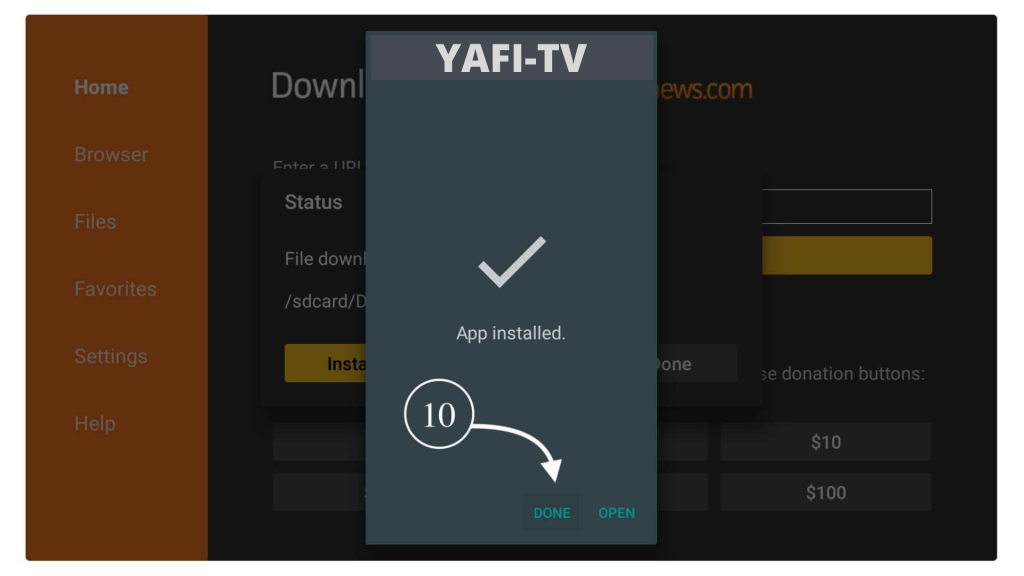 When clicking on Done you will see the Downloader app again with a lightbox having 3 options. From these options click on the Delete button.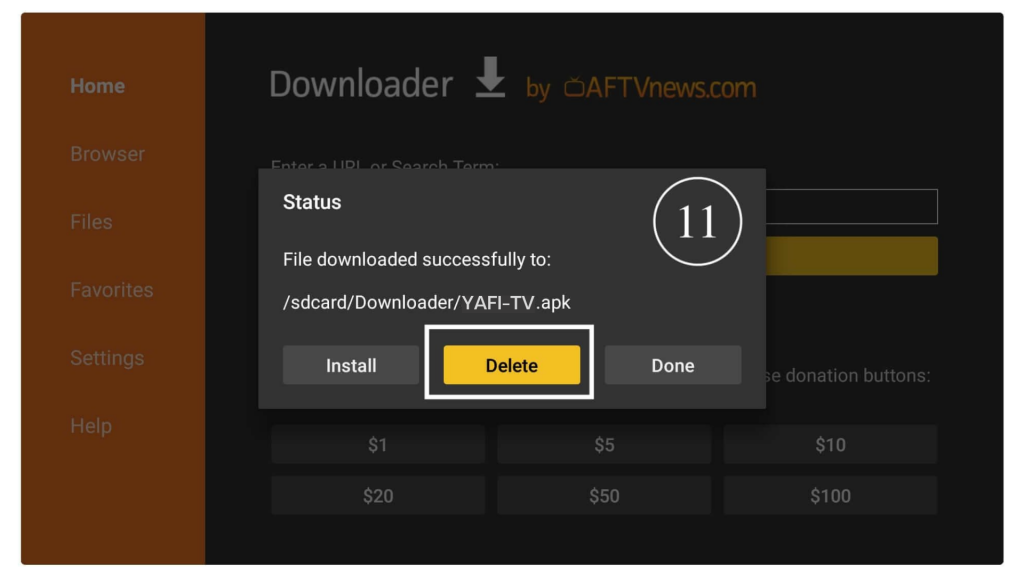 In the next screen, you will be asked for confirmation so again click the Delete button and the app back up will be removed.
That's it now the YAFI-TV player has been installed and the backup file is deleted, always keep in mind to delete the backup app after installing. It is because these apps can full your device storage that could cause the device to overheat and once it starts heating you will face many issues like slow performance, buffering, app crashing, and so on.
However, you can access this app by going to the Your Apps & Games section or press and hold the Home button for a few seconds and click Apps. Now scroll down and at the bottom, you will see this app icon appears.
To move it to the front just hover on the icon and then press three horizontal line buttons (menu button) now on the right side below a menu will appear so from here click Move to Front.
How to get YAFI-TV player on Firestick [Quick Guide]
However, if you can't feel safe with Downloader then here is another best app that can be used as an alternative. This app named ES File Explorer and I know you already heard about the name before as it was once available on Google Play Store but recently they removed it.
It is still available on the Amazon App Store so we can still download it. Don't get confused with the name as this is not any ordinary File Explorer. Perhaps it comes with many features like Downloading Files, Installing 3rd-party Apps, FTP File Sharing, Root Explorer and many more.
Ok, so here is the quick guide to downloading YAFI-TV player on Firestick using ES File Explorer:
From Home Screen open the Search box.
Type ES File Explorer and click Go.
Open First Result you see there.
Click on the Download button.
When Download completes select Open.
In the first launch, it will ask to grant permission to access Files then click on Grant permission.
After this click the Allow button.
Now from the left panel select Favorite to expand it and then click the Add button.

It shows a box so type 

https://bit.ly/YAFI-TV in the URL section and YOUR NAME in the name section and then click Add.

Again, from the left panel click Favorite to expand and now click YAFI-TV.

In a few seconds, YAFI-TV player will start downloading so wait for a while until it completes.
Once the download completes click Open File
Now click on Install.
From the installation, the screen selects the Install button.
Once the installation is completed just click Open to launch it.
Now the player is installed on Firestick successfully and this is the best method in case you don't want to use a downloader. But please make sure you have a premium version of ES File Explorer as in the free version you cannot install 3rd-party apps.