As a digital marketer, you've grown accustomed to lead generation channels such as email, banner ads, Google Adwords, and Facebook advertising campaigns. But mobile devices open up an entirely new channel for a business to reach a highly targeted, receptive audience: SMS Marketing, also known as Text Marketing. The use of text marketing is quickly emerging as one of the best and most reliable ways to successfully communicate with your customer.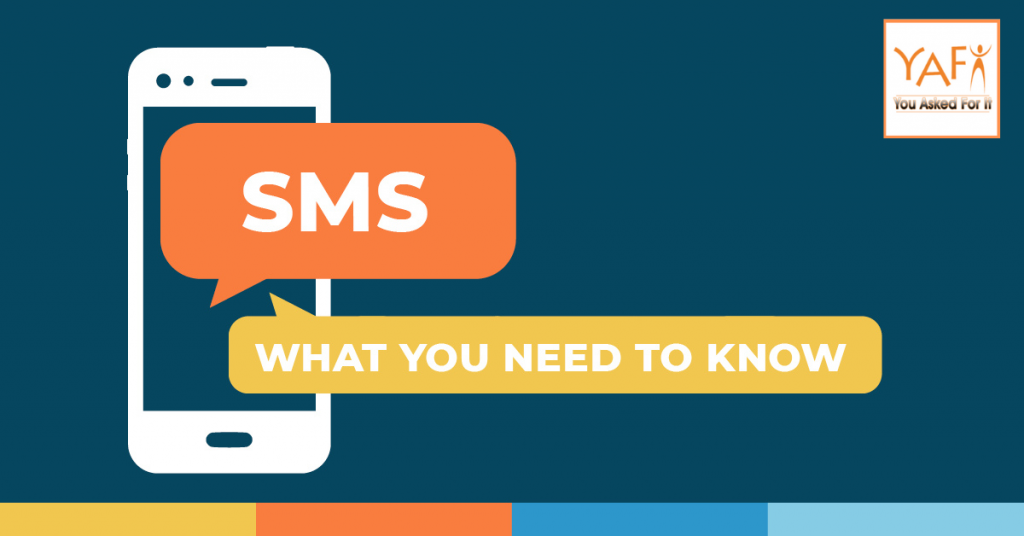 You may ask yourself, "Why should we use SMS Marketing?" Our answer is simple: "Your customers (donors/fundraising) are texting, so why aren't you?" Text message marketing gives you the perfect opportunity to connect with your customers on the devices they carry with them all day, every day. If that's not enough to get you to think about incorporating Text Marketing into your marketing mix, here are five more reasons to consider.
1. It's Personal
Your customers have a very personal relationship with their phones. It's the way they engage with their friends and family. In fact, it's the very first thing most people reach for when they wake up. Once your brand is invited into this inner circle — caveat: you need permission — you'll have an immediate, more intimate way to have a one-to-one conversation with your customer.
2. It's Simple
SMS Marketing provides businesses with an uncomplicated way to connect with customers. It doesn't get much simpler than sending a text. For marketers, though, the trick is to be able to have an engaging chat when limited to around 160 characters at a time. Brief messages featuring incentive contests, coupon redemption, opt-in surveys, and polls help move the conversation along. Tip: Include your SMS number or a short code on your direct mail, email, website, and social media pages. This can be a proven way to entice consumers to opt-in to your SMS Marketing programs.
3. It's Highly Targeted
A consumer's relationship with their phone, combined with a permission-based relationship with your brand, is a powerful marketing tool. Surprisingly, the majority of consumers are actually receptive to interacting with businesses via text, just like they do with their family and friends. With their permission, this receptive audience can be a lucrative one. But don't overdo it. No one wants their phone swamped with unwanted texts. As a best practice, consider that more than 2–4 texts a month risks annoying your customer. If your offer is relevant and written specifically for the individual customer, you are sure to make a connection. You can also send a mass text — targeting a bigger audience — with a coupon or special offer they can't resist.
4. It Outperforms Other Channels
SMS Marketing boasts greater immediacy and attention than other digital marketing methods: from open rates to delivery, SMS topples email, Facebook, and push notification. When compared to other advertising categories, according to Mobile Marketer, SMS Marketing can lead to higher engagement rates and enviable ROI. While SMS outperforms other channels by leaps and bounds, it's even more effective when used in conjunction with voice, email, push notification, and other channels, as an integrated part of your digital and mobile marketing strategy.
5. It's Easy to Implement, Manage, and Track
With most SMS platforms, you can quickly and easily monitor and measure the performance of each SMS campaign. Because Text Marketing is permission-based, you're off to an excellent start: you know exactly who you are messaging and, because of that, you can capture highly specific data about your customers including demographics, interests, purchase history, and more! Proving marketing value is the holy grail for every marketer, and SMS Marketing, if properly integrated into your CRM, allows you to measure real-time performance of your text messaging campaigns — even mass texting can be tracked with proficiency.
Here are a few more reasons…
Whether you're sending a global marketing campaign to millions or engaging customers around the corner, the use of Text Marketing is a highly effective and friction-free way to communicate with your customer. If these reasons have convinced you to include this digital marketing channel as part of your mobile strategy, consider this five-point checklist to help you choose a solution provider:
Global reach: Does your provider offer a superior global carrier network to ensure seamless and speedy delivery of your text to any part of the world? And can it scale to handle hundreds of thousands of texters simultaneously?
Feature rich: Does the provider offer the ability to send calendar invites and picture messages with MMS (Multimedia Message Service).
Language services: Do they offer translation services in real-time so you can text with your customers — automatically — in their native tongue?
Uptime: Does their service level agreement meet the real-time demands of your business and, more importantly, ensure your messages are delivered without service interruption?
Top 5 Text Marketing Business Types
The business types are:
Restaurants
Churches/Non-Profits
Bars/Nightclubs
Retail
Salons
Each of these business types have different uses for the system and each have their own benefits. From our experience, these 5 business types reflect a good portion of the total spread of businesses using text marketing. As it pertains to Churches and Non-Profits, we help them extend the power of text fundraising marketing, by "advancing" a Lifestyle Membership Bundle, offered to help impact ongoing funding for their cause.
1. Restaurants
Restaurants will usually run specials for a given week or month in order to attract more customers. Specials are often marketed through printed coupons, radio advertisements, and e-mail. Recently, text messaging has become an amazing tool for getting those specials to the customer. Certainly, this isn't meant to replace other forms of marketing, but to compliment it. Other forms of marketing will promote its use. Where it really shines in restaurants is its timely delivery and read-rates. Restaurants can send specials to their customers in such a time-targeted fashion that it excels over all other forms of marketing for this specific purpose.
2. Churches/Non-Profits
Churches are always looking for ways to connect to their members and keep them informed of new things. While this doesn't have much to do with marketing, it does have everything to do with keeping the line of communication open with those of most importance in their organization and fundraising efforts. Weekly reminders about several different things are announced through text message including (but not limited to):
Youth group reminders
Sermon reminders
Guest speaker announcements
Service project reminders
Program information
Daily Bible verses
Prayer requests
etc…
Churches and Non-Profits have several different uses for text messaging. Like mentioned above, it has timely delivery, so even if those reminders aren't exactly on schedule, the information will still arrive far quicker to people than other forms of reminders.
Non-profits could use Text Marketing to text donors about fund raising events and activities. They could use a keyword to ask people to text the word DONATE to get a link to the donation page. They could use text to coordinate volunteers to help when needed. They could use text to reach out and communicate with those in need.
3. Bars/Nightclubs
On the same subject of reminders, bars and nightclubs also have a need for keeping their patrons informed. Bars can keep their patrons informed of events and happenings through text as well as running promotions on drinks. Nightclubs have used text messaging in a variety of different ways including reminding people of events, concerts, DJ's, and as a manner of VIP texting. VIP texting can be accomplished by having those who qualify for VIP rank to be texted special offers and promotions for their status as a VIP.
4. Retail
Retail outlets use text message marketing mainly for promotional purposes such as sales and blowouts. Promotions are often accomplished through some form of a text message coupon that is redeemable at the location hosting the event. The same strategies to any kind of coupon-driven promotion apply, just in a digital sense.
5. Salons
Salons and hairstylists can utilize the promotional abilities of text marketing, along with other things such as appointment reminders. Much of the demand for text marketing for salons and hairstylists focuses mainly on the appointment reminders. Something as simple as a text message with the time of their appointment can help stylists not only keep their customers informed but can help with time management as well. Text messaging is more effective in reaching clients/customers and can help with those who need to cancel their appointments. Without cancelled appointment notification, a hair salon can find itself wasting precious hours that could be spent with customers who need their services they provide.
Regardless if your business/organization fits within one of these types, text message marketing has some use in your organization or business. We are always striving to come up with new features to enhance our platform, making it useful for everyone. Think of different ways and methods you could implement text messaging into your own organization and, as always, do not hesitate to contact us with questions.
* SMS Messages Are Popular
The vast majority of Americans–96% to be exact–own a cellphone of some kind. Not only that, but they spend a lot of time with it. 79% of adult smartphone users have their phones with them for 22 hours a day.
It's also worth mentioning that while we spend the majority of our time looking at memes, most people use their mobile devices for "checking, sending, and answering text messages."
The above is a long-winded way of saying, "Your customers are texting, so why aren't you?"
* Text Are Intimate
People enjoy texting. It's the way they engage with their nearest and dearest, so it should come as no surprise that texting can even boost happiness.
In the hierarchy of marketing channels, texting is by far the most personal. Where email brings to mind more formal business communications, SMS feels friendly and casual.
Unlike social media, which sends one message to many, anyone receiving texts can feel personally recognized.
The caveat here is that texting requires an invite. If you decide to crash someone's inbox uninvited, you'll annoy them and break TCPA laws on text marketing.
This may sound like an intimidating hurdle to overcome, but all you need is express written consent—a fancy term for permission.
P.S. This makes your texts even more effective (more on that below).
* People Don't Ignore Texts
Consumers see a multitude of marketing messages every day, everywhere.
As people grow numb to the constant stream of social media and online ads, it can be challenging to get your message across.
Text message marketing is the answer. The New York Times refers to it as "the closest thing in the information-overloaded digital marketing world to a guaranteed read."
Want proof? Check out these stats:
The average SMS marketing campaign conversion rate is 45%
SMS open rates are 98%
The click-through rates for SMS promotions are around 19%
It's why roughly 60% of business owners plan to increase their SMS marketing budget.
* Texts are Immediate
When we surveyed 400 US business owners about the most significant benefits of texting their audience, fast delivery ranked number one.
It probably also explains why 50% of respondents said that flash sales and time-sensitive promotions would encourage them to opt into a business's text messages.
People read new text messages almost immediately. Other forms of communication don't even come close to numbers like these:
60% of text messages are read within 2 minutes of reception
Average response time for a text is 90 seconds
It's challenging to get this kind of instant exposure from email. This means any effective SMS campaign can be flexible and responsive.
* People Want to Receive Your Texts
For many customers, receiving texts is their preferred way of communicating. Most advertisements are ignored because most people aren't interested in the business' message.
Consider how many times you scroll through Instagram and see a brand asking you to "Buy Now." Chances are you're going to continue scrolling. This kind of marketing typically has a low success rate for one simple reason—it's uninvited.
Since people subscribe to receive your texts, your message is guaranteed to reach an audience that's genuinely interested in what you have to offer. It goes a long way to explain the high level of engagement and conversion rates businesses see when they send texts.
How Does SMS Marketing Compare to Other Marketing Channels?
To illustrate the unique benefits of SMS marketing, let's quickly compare different communication channels.
Direct mail won't do for alerting someone to your e-commerce store's flash sale or your restaurant's ribs deal. It's slow, expensive, and can end up in the bin.
Phone calls are extreme if you're letting someone know you offer free teeth cleaning with a checkup. They can also be untimely and intrusive, and if you don't reach someone and leave a voicemail, there's no guarantee they'll hear it.
We love email marketing, but marketing emails can get lost in overflowing inboxes or junk folders. It explains why response rates to SMS marketing are 7.5x higher than email.
---
7 Text Promotion Ideas
Okay, here's what you came here for. Tried-and-true SMS marketing campaigns which contain the key components we talked about above. Feel free to copy and paste any of the below messages or check out these SMS templates for more ideas.
1. Weekly Tips
You can offer more to your audience than sales and discounts. Build your brand's image by sharing helpful, educational content. For example, a fitness center may want to send out #motivationmonday campaigns. A beauty brand could send skincare or makeup tips. Ideally, your tips will help solve a problem your customers have. The more value you offer, the more likely you are to create loyal customers.
Example: Today 1:15 PM Curology Cosmetics Weekly Tip #45: When it comes to skincare, less is more. Only use a pea-sized amount of our cleanser. See all of our past tips here:
2. New Product Announcements
Don't wait for your customers to show up at your business before you share information about new products. Make them feel like insiders by sharing updates by text—even before you post anything to social media. If people know your SMS list is the place to be first in line for news about your company, they'll feel encouraged to sign up.
Example: Today 11:45 AM: We're happy to say Chef Joe has finalized perfected his gorgonzola walnut pizza recipe. Come in and try it today! It's officially on the menu.
3. Sweepstakes
In the world of text marketing, there's what's known as a keyword. This a word or phrase that people can text to your number to sign up for your messages. In this case, when they text in the word, they'll be entered for a chance to win a prize. The great part about the type of marketing campaign is that it helps you build your list if you're just getting started with SMS.
Example: Today 12:15 PM Brainfreeze: Thanks for entering to win a year of free Slushies from 7/11! Winner will be announced on Monday ,the 14th.
4. In-Store Deals
If you run a brick-and-mortar shop, sometimes foot traffic isn't enough. Bring in an extra surge of customers by offering deals which can only be redeemed in-store. The key to this promotion is to include a deadline on your offer. A good deal combined with a sense of urgency can be a powerful tactic for increasing sales.
Example: Today 4:35 PM: Kelsie's Closet: Emily, we need to make room for new inventory, so we're offering our texting list BOGO on our shorts and pants. But come quick, it's today only!
5. Flash Sales
Similar to the previous text promotion idea, this one is all about delighting your customers. Send out a message with a discount code that's just for your SMS subscribers. You can use our link tracking feature to segment your audience based on who clicked, and who didn't. Then you can send an extra nudge to customers who didn't click.
Example: Today 3:00 PM: Amy! Dogs got ahold of our text message system and demanded a flash sale. All of our chew toys are 50% off for the next three hours!
6. Event Invites
Text messages are a popular tool for event promotion. Even if you don't run a venue, you can still host a fun event and use SMS messages to invite your customers. Successful retail pop-ups or fun in-store events are an opportunity to build customer relationships and, of course, drive sales.
Example: Today 12:10 PM: You're invited to our latte art competition, Alberto. Come see our baristas go head-to-head on Saturday 7/21 at 7 pm. Click HERE to register ahead of the crowd.
7. Polls and Surveys
An essential part of fostering customer loyalty is making your customers feel listened to. Learn more about your audience's preferences and involve them in your business with an SMS survey. You can use this text promotion to either acquire new subscribers or get opinions from existing ones.
The Wrap on Why You Should Use Text Marketing
Regardless of your industry, or whether you're sending a national marketing campaign to hundreds of thousands, or engaging customers around the corner, the use of SMS as a marketing tool is a highly effective and friction-free way to market.
We'll show you how it works.